NEELY
FAMILY RESEARCH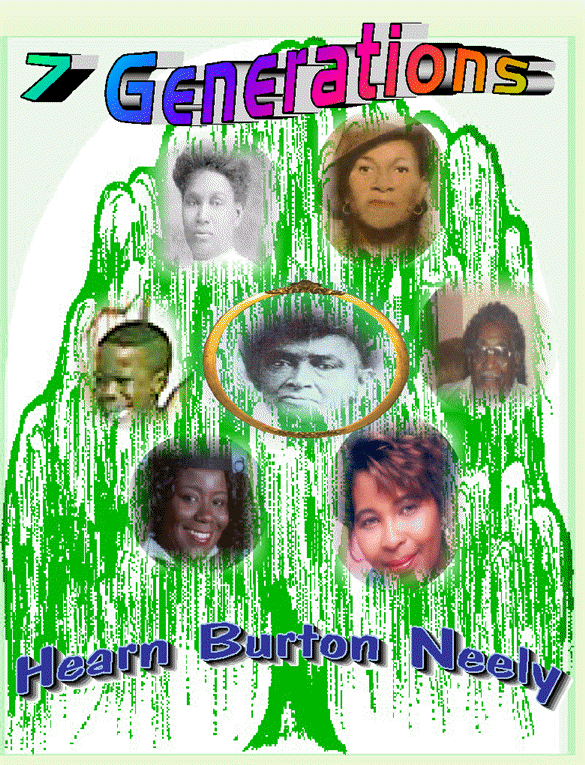 ---
Contents
Ancestors
To have your research or link to your website appear here, please e-mail me.
---
Soundex Code - N400
Town/County Database -- Interactive Search
---
Spelling Variations
Derived from McNeely (Irish)
Neely
Neeley
Neelie
Nealy
Nealey
Nealie
Neily
Neiley
Neilie
---
Fannie Neely
---
Websites
To have your website appear here, please e-mail me.
Links to assist your research online
Birth Date Calculator
Birthdate Form
Books We Own
Calculating Birth Year Based on Census Information:
CD Look-ups
Genealogy Dictionary
Genealogy Helplist
Genealogy Helplist Illinois
Genealogy Helplist Missouri
Genealogy Lookups
GeneaSearch.com Tools
JavaScript Birth Date Calculator
Research-It! - Your one-stop reference desk
search of citys or zip codes that will return the county name
Social Security Death Index (SSDI) Search
Surname To Soundex Code Converter
United States Town/County Database -- Interactive Search
USGenWeb Lineage Researcher Pages
Personal Websites
---
QUERIES
To have your family query appear here, please e-mail me.
Or just let me know what you think of this site. And don't forget to leave your surnames in my guest book, you never know another visitor just might be a relative.

I would very much like to learn information about D. and Clary (Clacy) Neely. Their birthdates are unknown, but Clary is from North Carolina. No documentation has been found to tell us where D. was born, but family lore has always been that my gr-grandfather Thomas' father was from India. Their one known child is Thomas (Tom) Neely who was born 1867 in North Carolina. He lived in Red Banks, Marshall County, Mississippi with his wife through the 1900 - 1910 census. It is not known if he moved to Memphis, Tennessee yet he died there in January of 1930. His daughter Fannie Little was the informant so he may have lived with her at the time. He was a widow so I am also looking for information on the death of his wife Mary Curry Neely. Getting back to D and Clary (Clacy) Neely, I would like to know if they migrated to Mississippi and have any and all information I can find out about them.

I am researching African-American NEELY and BURTON families from the Holly Springs and Byhalia , Mississippi areas. Thomas NEELY born May 1867 in North Carolina and Mary CURRY NEELY born July, 1867 in Mississippi or Georgia . I would like to know the parents of both and and what area of North Carolina and Georgia they were from.

Children of Tom and Mary NEELY were: Fannie born March 1885 in Mississippi , Jessie born August 1886 in Mississippi and Elder NEELY born April, 1880 in Mississippi . Elder married Nina Mae Eliza Beatrice Jane BURTON born May 1892 in Mississippi whose father was Charles BURTON and mother was Alma (Duck) HEARN BURTON. I would appreciate any information on ancestors or descendents.

I am very interested in finding out about Neely slaves. I have been told Thomas' father was brought to

America as a slave from India .

I would love to hear from anyone with information. You can find more on my families as well as links to other Neely researchers at http://www.debdavis.org/.
---
I am researching the NEELY family from Marshall County, Mississippi. I would like to find information about descendants.
Elder Neely, lived and died in Jackson , TN. He was born April 7, 1890 in Marshall County, MS and died October 1967 in Jackson . His parents were Thomas and Mary Neely. I have been trying to find where they died. Both were born in 1867. Their other children were Jessie born August 18, 1887 and Fannie born March 1885.
I am also looking for information on Fannie and Jessie Neely. Jessie had a number of children.
Jessie's children:
1 [1] Jessie Neely b: August 18, 1887 in Mississippi
.. +Minnie Neely b: 1891 in Mississippi
...... 2 Wilson Neely
...... 2 Vester Neely b: 1908 in Mississippi
...... 2 John H. Neely b: 1911 in Mississippi
...... 2 Tammy Neely b: 1913 in Mississippi
...... 2 Jesse J. Neely b: 1915 in Mississippi
...... 2 Mary J. Neely b: 1917 in Mississippi
...... 2 Leroy Neely b: 1919 in Mississippi
...... 2 Lucille Neely b: 1922 in Mississippi
*2nd Wife of [1] Jessie Neely:
.. +Irene Davis Neely
...... 2 Lewis Neely b: 1925 in Mississippi
...... 2 Albertha Neely b: 1928 in Mississippi
---

Submit your page to 34 popular sites for free, using one form!
---
SOUTHERN ILLINOIS GUESTBOOK
COMING SOON
Read my DreamBook guestbook!
Sign my DreamBook!
[ Home ] [ Ancestors] [ Illinois] [ Links] [ Research ][ States ]
[ Alexander Co, IL ] [Bond Co, IL] [Boone Co, IL] [Cook Co, IL] [Gallatin Co, IL] [Jefferson Co, IL] [Johnson Co, IL]
[Knox Co, IL] [Macoupin Co, IL] [Madison Co, IL] [Massac Co, IL] [Peoria Co, IL] [Pope Co, IL]
[ Pulaski Co, IL] [Saline Co, IL] [Sangamon Co, IL] [St. Clair Co, IL] [Union Co, IL] [Williamson Co, IL]
Send mail to the Webmaster with questions or comments about this web site.
Copyright © 2007 DebDavis.org, All rights reserved.